February 28th marked the first day of practice for us this season. It was a little cold, but dry.
I haven't raced since 2002 and Austin last raced only a limited schedule about 2 years ago. It was fun to get back out on the track. Now that Austin is older and can take care of his own kart, I can start racing again without having to spend all of my time caring for two karts.
Much of our time was spent tuning and setting up the karts.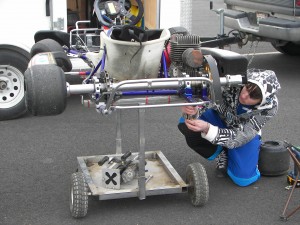 We managed to get in about 30 to 40 laps, though. It was valuable time and allowed us to shake down two karts we hadn't driven before.
It also gave me plenty of time to work out some muscles I didn't know I had. Man, am I sore. I had forgotten how much work it is to drive one of those things. I've got a new respect for the professional race drivers who go like that for 500 miles….wow!
Some friends at the track took some photos of us while we were driving around the track. I'll post them as soon as I receive them.