Tonight, Leslie made blueberry-banana smoothies with our new Ninja Master Blender. The smoothies were wonderful – made from frozen blueberries that we had picked this summer at the u-pick up the road from our house.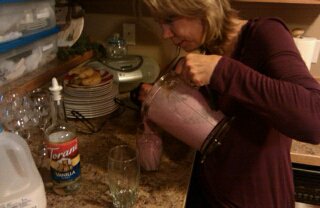 We used to have an old food processor to make smoothies, but we wore it out. For awhile, we were left with the Magic Bullet to do the smoothies with, but finally came across the Ninja, and I'm so glad we did.
The Ninja is so easy to use. It's perfect for most every use in the kitchen. The main thing, as a blender for smoothies, is that it has enough power to chop up the ice with ease.
Don't get me wrong – we love the Magic Bullet. In fact, I used it just yesterday for pureeing some veggies to put in the chili that I was making. It has it's place in the kitchen, but the Ninja is much better for the heavy duty jobs like chopping ice for smoothies and fraps.