My wife, Leslie, and I enjoy listening to audio books while we travel. During our recent trip to the Winter Carnival in McCall, Idaho, we selected "Kiss" by Ted Dekker for our listening pleasure.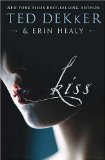 "Kiss" is a suspenseful story. I felt the hopelessness of trusting the wrong people – not knowing who to trust. Good people turned out to be bad and bad people turned out to be good. I felt like calling out to the character in the book to warn her about trusting the wrong people.
If you're looking for a book that provides deep, philosophical, thought-provoking material, then keep looking. There wasn't much for me to take away to consider how I might understand life better, or make myself a better person. It's definitely a book that you read simply for pleasure, and it provides plenty of that. It is an engrossing, edge-of-the-seat thriller that will keep you hanging from the first page to the last.
Video Trailer
_______________________
Books by Ted Dekker
_______________________
More Reviews of "Kiss" by Ed Dekker and Erin Healy
Christian Novels: Kiss by Ted Dekker and Erin Healy
When you open a Ted Dekker novel, you know you're in for a mind-blowing ride. In Kiss, Dekker and Healy send you on that ride in the black of night. This is Blink on a caffeine high with a touch of amnesia. …
My Friend Amy: Review: Kiss by Ted Dekker and Erin Healy
I pick up maybe 5 to 6 books a year to read, but I got a copy of Kiss by Ted Dekker and Erin Healy. It is I have to say a great read. Dekker's work is always good but with first time author Healy, this book is outstanding. …
Window To My World: Kiss by Ted Dekker and Erin Healy
Just about the time I think Ted Dekker can't possibly get any better…he does! This time he has combined his talent with that of Erin Healy to create the most amazing plot twists imaginable! The result is Kiss – a story …
7 – Kiss; Ted Dekker and Erin Healy
Ted Dekker is a "new to me author". He is known for writing Christian Fiction, which I generally do not read, but this novel was a psychological thriller so I decided to give it a try. I was not disappointed. I read this book in one day …
Finding Hope Through Fiction: TED DEKKER & ERIN HEALY BOOK SIGNING …
New Book "Kiss" written by Ted Dekker and Erin Healy – It's a great thrill ride you'll want to take. TED DEKKER AND ERIN HEALY To my great surprise I met a fellow blogger in line. Her name is Kim Wood. The name of her blog is Window to …