I'm pretty sure that Starbucks doesn't think too highly of people like us. Oh, well, I'm not too concerned how the feel – ever since Schultzie orphaned our beloved Sonics and left them to be adopted by some Oklahoma swindler.
We used to spend lots of $$$ at the coffee stands. In fact, my wife still has an exhaustive collection of punch cards from every corner stand between home and work and church and shopping.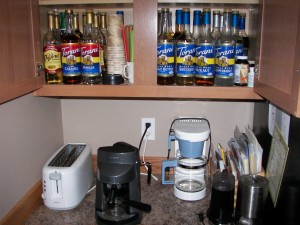 We have converted to "poor man's lattes" and have eliminated the more….sophisticated version. We snagged us a $29.95 Mr. Coffee espresso maker down at the local Shopko. The milk frother doesn't work so well so we just microwave the milk. But, hey, for the $4.50 I would spend on a venti mocha, I can drink a latte every day, all week.
We've collected all the essentials for making a variety of lattes. We even buy the 16 oz paper cups and lids with the skinny little straws, so when we get to work, everyone will think that we stopped at the corner latte stand. It's all about the image, you know.
Right now, while I'm sitting at my computer, I'm sipping a delicious hot mocha – and I didn't even have to leave my house.